Valiko is the kind of studio that is between artistic crafts and design which is based in Bologna. We create collections of Notebooks, Cases, Posters, Postcards, Pins that are distributed through a small circuit of shops, bookshops and concept stores. Valiko follows its projects in an independent manner, in a self-production logic and a brief production chain. Each phase of work is taken care of internally: creation, production, packaging, display, graphics, communication, promotion and distribution.

Each one of our creations is meant to be a piece of an emotion, an image in which each one of us can find old memories to carry with us every day. A notebook finished with care and the love for details, bound and printed with images chosen to give life to new sensations. Every time we create our notebooks with unique and new subjects, we are searching for images of past lives that are reminiscent of impressions of the past. It will be up to you, avid writing maniacs, to fill them with notes and more notes making your notebook even more special.


Two Italian designers, Valentina Cabri & Enrico Ganzerli, invest in their own ideas: Valiko is born, a creative workshop completely made in Italy, where both individual and collaborative projects are handcrafted into unique pieces or small series of limited editions. Valiko, is not only the union of the two names, but metaphorically it is also a place to meet, exchange and to contaminate the two creative personalities which are ready to merge ideas and know-how to form a shape of something original.
Valentina has curly (very curly) hair, is cheerful and a lover of all animals and plants! She knows how to create emotions working with all types of materials, from paper to ceramics, passing through cardboard and textiles. When she moves away from her desk and leaves the laboratory, you will find her in her garden, where, with masterly dedication and organisation, she cultivates fruit and vegetables from some of the remotest corners of the world. And it is exactly the nature that knows how to inspire her creations which are packed in originality and the love for art.
Enrico, all irony and music headphones. He is a ruthless binder, able to give shape to any emotions, transforming them into visible images, printed on to notebooks. He can barely sit still at a desk. He prefers to walk, listening to music from his headphones while thinking of evocative images and original graphic creations. He is a man who never gives up, who knew how to believe in the Valiko project, developing and carrying it forward with tenacity together with his companion in life and adventure.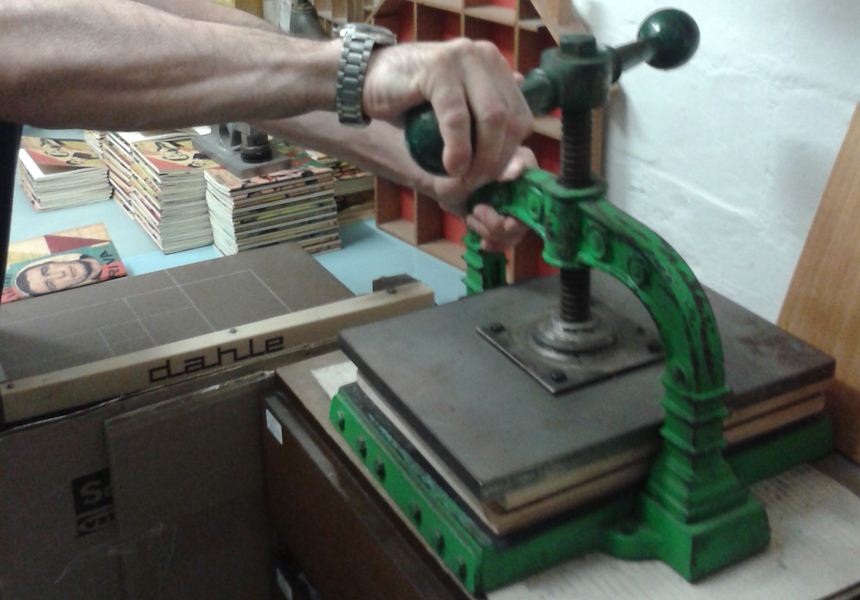 When the irony of Enrico met the curly hair of Valentina, they both immediately had the feeling that from this encounter something explosive would happen. Since that day, actually, while she creates unique and innovative pieces submerged by all sorts of material that can be worked, he walks around her developing new images to capture on the covers of his notebooks e not just.